(Check out my contest I have going on here!)
The
Mad Men Challenge
is finally done! This challenge had a lot of firsts for me: First time I've ever used a pattern on the fabric. First time I've ever made a pencil skirt (or dress). First time making a back vent. First time my sewing machine broke* right as I was about to finish...
It's also the first time I'm ridiculously pleased with my dress! I love my other projects of course, but there's always been something a little off, even if it's just that I didn't finish the seams and the inside is slowly unraveling.
When I initially
started thinking of what to make
for the Mad Men challenge, I gravitated towards Megan and Joan dresses, but when I went through my stash, I saw only one type of fabric that I thought would work for this challenge, and instantly I knew what dress I wanted to make.
I searched and high and low for a pattern that would work for the dress. I'm not even joking, I spent WEEKS looking for this pattern. Whenever I found something remotely similar, it was several sizes too small and about $20. Sure, I
could
adjust the size, but not when I'm spending $20. (Sorry, I'm cheap.)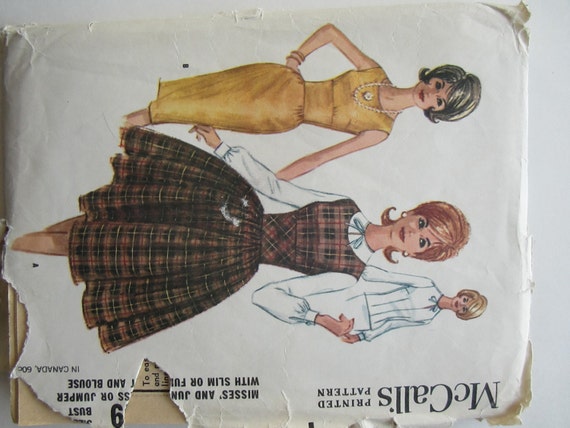 So finally one day, I decided I was making a decision. I went through ebay. Nothing. I went through etsy. Overpriced, wrong seized patterns. Finally I was on page 50 and I said, "I should stop. There's no way I'm going to find the exact dress I want at the price I want." And then, I swear, the next pattern my eyes landed on was the exact dress I've been searching for, in my size, and for $15 less than everyone else.
McCall's 6449 was a gift from the universe, I swear.
Have you met Franklin yet? He REALLY wanted to help this dress along. Whenever I had my fabric pieces out, he would pull them on the floor to make a soft bed for himself.
He also discovered my
ring cushion pin
and kept stealing it from me. Then he discovered my bag full of sewing parts and would rummage around in it. He also decided it was fun to hit the tops of my sewing pins, try to knock the iron over, and jump up and try to grab the needle while I was sewing on my machine. I don't know why he took such an interest in this particular outfit, but it was very frustrating.
His punishment.
I know you want to hear more about my cat, but on to the dress! I was so nervous for this dress. I knew it was either going to fit me like a glove or not at all and luckily it was just like a glove!
I was also a little nervous because as a pear shape, I've been told a million and one times that I should only wear dresses that fit through the chest and waist and then flare out or else I will look disgusting. Even my mother has drilled into me that I need to make sure to "balance" my body when I get dressed.
To be fair, the few times I have tried on pencil skirts in stores, they did look atrocious, but that's only because they were cut straight down and so not really a pencil skirt at all despite the words on the tag.
I was actually planning on cutting the skirt to be A-line, but then I was inspired by
Romola Garai in BBC's The Hour
. She's a bit bigger than the average stick in Hollywood and wears form fitting clothes and looks amazing. So I decided to go for it.
If you were here when I did the Pushing Daisies dress, you'll recall all the trouble I had with the neckline. Same. Exact. Problems. I really need to account for my narrow shoulders next time. But this time, instead of doing it over and over again, I just added 4 darts. Two in the front and two in the back. You can hardly tell because of the pattern, and even if you could, I still like it, but best of all: it's not off the shoulder anymore!
I really hate strapless bras.
The front is mostly gathers above and below the waist, and of course the 2 darts I added in. The back is all darts, and I sort of wish the front were as well, but the gathers do look quite nice.
Let's talk about this pattern on the fabric for a moment.
This was the first time I've ever used a patterned fabric. Patterns scare me, and it's why this fabric has sat in my closet for almost a year. I really didn't check to see if I had enough to use the pattern correctly. I just held it up to my body and was all, oh yeah, there's enough here for a form fitting dress.
Then I began cutting around the flowers because I didn't want anything obvious over my chest, lady parts, or my bottom. The boyfriend was VERY worried that the dress was going to be too suggestive and helped me with this part, but I think it turned out fine.
I do wish I had shortened the front skirt about an inch so that the flowers from the waist don't look like they're spilling down into the skirt, but I keep telling myself it's not a big deal and no one notices but me...
Check out the back! I had just enough to do the back panel and I added 2 inches just because I was worried it was going to be too tight. THANK GOODNESS I added those 2 inches because I ended up taking out 2 inches for the back vent and it never would have fit otherwise.
Also, if you notice the lack of flowers over the rear, that was all thanks to the boyfriend. He very carefully laid the back piece out (and luckily it worked because this was all that was left!), but I honestly don't think it would have made much of a difference because of the 2 inch vent and the 4 darts that total to about an additional 2-3 inches taken out so the pattern might not have been suggestive anyway.
I'm including this picture just for the hair. I love the giant updo but the boyfriend called me a woodpecker. He clearly knows nothing about style.
So yay! This dress isn't perfect as the side seams aren't totally down the side and I accidentally burned off a bit of the lining with my iron, but I'm so ridiculously proud of this. I can't wait to sew more once my machine is fixed!
*So my top thread is getting caught on the bobbin case as it moves around and after the 3rd stitch the machine seizes up. The internet says it just needs some oil so hopefully that's all it takes! Let me know if you have other ideas.